At a Glance
Description
A collection of 20 portraits by African American artists from the Harmon Foundation.
Producer
National Portrait Gallery
African Americans in the Harmon Foundation Collection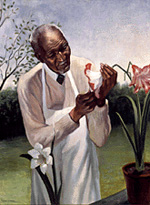 This site is based on the 1997 exhibition at the National Portrait Gallery featuring 20 portraits from the Harmon Foundation Collection. Real estate developer William E. Harmon (1862-1928) "one of the many white Americans who expressed his interest in the artistic achievements of black Americans during the Harlem Renaissance of the 1920s," established the Harmon Foundation in New York City in 1922 intending to "recognize African American achievements, not only in the fine arts but also in business, education, farming, literature, music, race relations, religious service and science." The portraits included in this exhibit were originally exhibited by the Harmon Foundation in 1944 "with the express goal of reversing racial intolerance, ignorance and bigotry by illustrating the accomplishments of contemporary African Americans. Each portrait is accompanied by a brief biographical sketch of its subject.