At a Glance
Description
Explore the history and development of a small town. The online scrapbook provides an uncanny lens into town life.
Producer
Worthington (Ohio) Libraries and the Worthington Historical Society
Worthington Memory, Online Scrapbook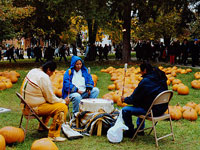 Currently provides more than 122 images of objects, documents, and photographs pertaining to the history of the town of Worthington, OH, founded in 1803 by a group of families migrating from western Connecticut and Massachusetts. The site creators plan to add more materials in the future, including digitized versions of 19th- and 20th-century newspapers and oral histories. Users may search by subject, title, or keyword in bibliographic records—which include abstracts of up to 100 words for each item—or browse the collection by decade or 27 categories covering aspects of the social, economic, cultural, civic, and environmental history of the town. Includes links to 22 related sites. Useful for those studying local history.