At a Glance
Description
How did WWI affect urban development? How did it impact housing and business in the cities?
Urban Planning, 1794-1918: An International Anthology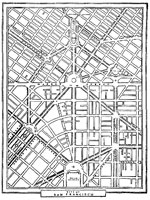 This site contains the full text of the 185 primary documents, roughly a 600-page book, dealing with urban planning. Dozens of journals, conference reports, books, official documents, and other sources are easy to navigate. In addition to the key word search engine, the site includes a topical bibliography that provides more than a dozen headings, and alphabetical and chronological bibliographies. Each entry also has a link to the full text of the document. Essays discuss a broad range of issues, including surveys of the state of urban planning, discussions of how urban improvements should be made, and details of the legal issues of land use regulations. Each document includes a brief (about 1,000 words) general introduction that sets the material in historical perspective. The selections on the site include Frederick Law Olmstead's commentary on the City Beautiful movement and continue to his son's discussion of housing developments in 1919. This site will prove useful to anyone concerned with urban planning or urban history and especially valuable to those studying how urban planning developed through World War I.