At a Glance
Description
Sit back and enjoy folk and popular music recordings from 1930s California natives and immigrants.
Producer
American Memory, Library of Congress
California Gold: Northern California Folk Music from the Thirties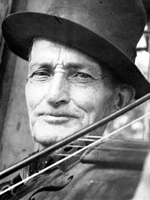 This site features 35 hours of folk and popular music sound recordings from several European, Slavic, Middle Eastern, and English- and Spanish-speaking communities. The Work Projects Administration California Folk Music Project collected these 817 songs, in 12 languages and representing 185 musicians, in Northern California between 1938 and 1940. The collection also includes 168 photographs of musicians, 45 scale drawings and sketches of instruments, and numerous written documents, including ethnographic field reports and notes, song transcriptions, published articles, and project correspondence.
Organized by folk music collector Sidney Robertson Cowell, sponsored by the University of California, Berkeley, and cosponsored by the Archive of the American Folk Song, this was one of the earliest ethnographic field projects to document folk and popular music of such diverse origin in one region. In addition to folk music of indigenous and immigrant groups, the collection includes popular songs from the Gold Rush and Barbary Coast eras, medicine show tunes, and ragtime numbers. In addition, short essays describe the California Folk Music Project and the ethnographic work of Sidney Robertson Cowell. This collection is an excellent resource for learning about ethnographic research practices as well as about cultures of various California ethnic groups.