At a Glance
Description
What did the Seattle area, mining, hunting, and portraiture look like c. 1900?
Producer
University of Washington Libraries Digital Collections
Lawrence Denny Lindsley Photographs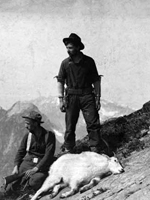 This website presents 472 black and white photographs taken by Lawrence D. Lindsley, grandson of Seattle pioneer David Denny. Born in 1878, Lindsley began taking photographs as a child, and eventually joined a photography studio in Seattle in 1903. He continued taking photographs until his death in 1974, though most of the photographs here date from the 1880s through the 1920s. In addition to photography, Lindsley held a variety of jobs in Washington State—mining, hunting, and guiding wilderness expeditions—activities all well-documented here.
The collection is especially rich in photographs of the landscape, wildlife and settlements of Mount Rainier, Grand Coulee, Lake Chelan, the Olympic Peninsula, and Old Gold Creek. Lindsley also photographed sites around King County, revealing a Seattle that had not yet experienced the urbanization of the early-20th century. A long list of subject headings reveals that Lindsley also frequently photographed family members and friends, producing images useful for examining turn-of-the-century portraiture.