At a Glance
Description
Research the history professional field, communicate with other historians, and access relevant resources.
Website
Producer
American Historical Association
American Historical Association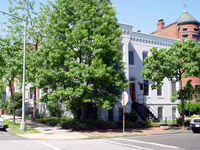 Homepage for the American Historical Association (AHA), the largest historical society in the United States. Includes information about membership; affiliated societies; annual meetings; a calendar of events; currently available prizes; grants; and honors; and selected articles from the organization's newsletter Perspectives. The site also provides 12 short essays by professional historians about teaching history in secondary schools and universities. "AHA Data on the Historical Profession" provides statistics based on recent surveys regarding trends in PhD production, employment, salaries, and enrollment. The site includes a link to "The History Cooperative," formed in 2000 by four institutions—AHA, the Organization of American Historians, the University of Illinois Press, and National Academy Press—to provide full-text access to recent issues of various history journals and to additional resources, such as The Booker T. Washington Papers.