At a Glance
Description
What magazines do you read? What did people read in the 1800s?
Producer
American Memory, Library of Congress
The 19th Century in Print: Periodicals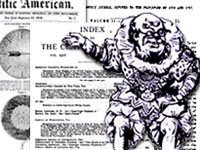 Part of the Library of Congress American Memory Project, this site offers full-text transcriptions of 23 popular 19th-century periodicals digitized by the Cornell University Library and the Preservation Reformatting Division of the Library of Congress. Among the periodicals on this site are literary and political magazines, as well as journals like Scientific American, Manufacturer and Builder, Garden and Forest, and the North American Review.
Each periodical is accompanied by very brief (10–15 word) notes on the name and location of the publisher and the years and volumes covered. Each periodical's full text is searchable by keyword and phrase.
A special presentation offers roughly 750-word essay on the historical background of Garden and Forest by Sheila Connor, the Horticultural Research Archivist at the Arnold Arboretum. There are also links to five related American Memory resources. The site's broad sampling of periodicals provides an easily navigated source for articles and editorials on a number of 19th-century political, cultural, and social issues.