At a Glance
Description
Explore film, music, and literature in its social context and chronology. Understand the cultural dynamics that lent themselves to the media.
Producer
Donna M. Campbell, Lewis and Stella Buchanan Distinguished Associate Professor of English, Washington State University
Brief Timeline of American Literature, Music, and Movies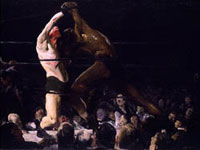 Supplies links to 22 full-text works of American literature, 180 pieces of recorded music, and 14 motion pictures from the years 1890 through 1929. In addition to the literary texts, the site includes thousands of links to more than 100 literary figures from this period and listings in decade-by-decade timelines for significant other works (texts not provided). Music and songs accessible in RealPlayer format include performances by Scott Joplin, Eubie Blake, John Philip Sousa, Bert Williams, Nora Bayes, Enrico Caruso, John McCormack, Billy Murray, Joe Venuti, Helen Kane, Jelly Roll Morton, Bessie Smith, Al Jolson, and a youthful Bing Crosby. A 1908 talk on "Unlawful Trusts" by presidential candidate William H. Taft is also included. Most of the films provided were produced between 1897 and 1906. While this site is still under construction, it presently offers a good variety of sounds, sights, and texts from these four decades.