At a Glance
Description
More than 30 letters cover conflicts from the Revolutionary War to the War of 1812 to war in Iraq.
Producer
Gilder Lehrman Institute and the Legacy Project
Battle Lines: Letters from America's Wars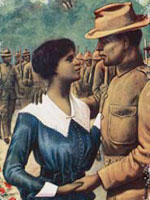 This annotated collection of more than 30 letters addresses the personal and political costs of war. Letters cover conflicts from the Revolutionary War to the current war in Iraq and are divided thematically into five sections: "Enlisting," "Comforts of Home," "Love," "Combat," and "The End of the War." Letters come from well-known military figures, such as Douglas MacArthur and Robert E. Lee, as well as ordinary veterans, such as Peter Kiterage, one of the 5,000 African Americans who fought in the Revolutionary War. The thematic organization allows users to chart changes and continuities over 200 years of American history. Each letter is read aloud so students can listen as well as read. In addition, a "magic lens" feature provides transcriptions over the original handwriting to help students decode the letters.