At a Glance
Description
Explore a unique website dedicated to American history during the 1890s.
Website
Producer
William E. Grant, Bowling Green State University
The American 1890s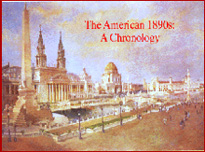 A collaborative effort between students and faculty at Bowling Green State University in Ohio, this site includes two sections. In the first, a timeline from 1888 to 1899 provides, for each year, snapshots of major national events, personalities, and statistics as well as excursions to approximately 30 additional links, background essays, images, quotations, bibliographies, and other material. The second, "Bowling Green, Ohio: A Tour of the Crystal City," contains 27 photographs; a month-by-month timeline covering town events during the years 1892-97; a 19,000-word essay written in 1897 on Bowling Green's "early history"; and essays ranging from 1,500 to 3,000 words on specific topics. No search engine, but the site may be browsed by year. Useful both as a general overview of the period and as a local history resource.