At a Glance
Description
Follow the emancipation process through the eyes of its participants.
Producer
Freedmen and Southern Society Project
Freedmen and Southern Society Project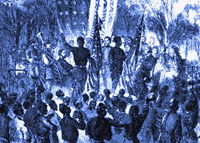 Maintained by Steven F. Miller of the University of Maryland, this site provides 44 primary documents relating to the emancipation of African American slaves between 1861 and 1865. It includes a letter by General William T. Sherman explaining why he refused to return fugitive slaves to their owners; an 1864 letter from Annie Davis, a Maryland slave, to President Abraham Lincoln asking him to clarify her legal status; a description by a Union general of a bloody battle at Milliken's Bend, LA, where a brigade of black soldiers fought; and documents from the federal and Confederate governments relating to significant events.
The documents—transcribed from originals housed at the National Archives—are accompanied by sentence-long annotations, as well as an authoritative chronology of events leading to legal emancipation.
This site is part of a larger effort underway by the Freedmen and Southern Society Project, "supported by the University of Maryland and by grants from the National Historical Publications and Records Commission and the National Endowment for the Humanities" to publish the multivolume Freedom: A Documentary History of Emancipation, 1861-1867.