At a Glance
Description
Contemporary art highlights and reflects societal issues following World War II.
Website
Producer
Hirshhorn Museum and Sculpture Garden
Hirshhorn Museum and Sculpture Garden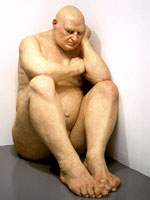 Provides informative entries on more than 4,000 works of art—more than 500 of which include images—in the collection of the Hirshhorn Museum and Sculpture Garden in Washington, D.C. "Conceived of as the nation's museum of modern and contemporary art," the Hirshhorn concentrates on the post-World War II period, with special focus on the past 25 years, though it also owns works by influential modern artists from earlier periods. Searchable according to artist, title, date, nationality, and 30 schools of art. Entries provide short essays of up to 200 words on artists and works. Previous and current exhibits are on display. An "Art Interactive" component explains ways that recent sculptors have used various methods and materials, and invites visitors to design their own creations. Useful for those seeking an introduction to modern and contemporary art history.