At a Glance
Description
Did you know that, traditionally, newsboys read poems to their customers on New Year's?
Producer
Brown University Library Center for Digital Initiatives
Carriers' Addresses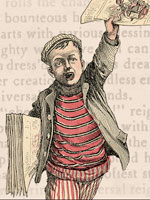 Limited in scope, this site provides an introduction to the study of Carriers' Addresses, which were poems or broadsides read by American newsboys to their customers on New Years' Day. The carriers read the poems, which often emphasized the diligence and hard work of the newsboys, expecting to receive a tip from the customer.
The site includes a 2,500-word explanatory essay and a collection of more than 400 digitized addresses from 1772–1912. The site is searchable, and visitors may browse the collection alphabetically by subject, title, or creator. Each address indicates the name of the newspaper, the date, and the name of the newsboy if known.