At a Glance
Description
A useful local history project which focuses on the history of Savannah and the Georgia coastline.
Website
Producer
Department of History, Armstrong Atlantic State University
Savannah Images Project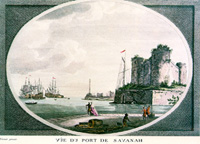 This site, funded by the Georgia Humanities Council and the National Endowment for Humanities, is part of a project that involves teachers and students in historical study by investigating local history and helps them develop technology skills by conducting historical research. The site features more than 300 images of places and events in Savannah and coastal Georgia divided into 17 subjects, such as "First Baptist Church of Savannah", "Fortresses of Savannah," and "James Oglethorpe and the Native Americans". Each topic offers a 750-2500 word essay written by Armstrong Atlantic State University students and professors. Because the authors' levels of expertise vary, the essays are of uneven quality and length. Some essays have links to specific images and bibliographies of suggested scholarly readings. Images offer brief (10-20 word) descriptive captions. This site is ideal for those interested in the history of Savannah and coastal Georgia, and it would also be a useful model for similar local history projects at the high school and college level.