At a Glance
Description
Take a visual journey through the development of Milwaukee, WI.
Producer
Judith T. Kenny, University of Wisconsin-Milwaukee Libraries
Milwaukee Neighborhoods: Photos and Maps, 1885-1992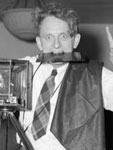 This website presents 638 images of the buildings and neighborhoods of Milwaukee that together document the development of the city of Milwaukee from the mid-1880s to the early 1990s. The collection brings together images from two rare books, the photograph collections of the American Geographical Society Library and the Archives Department at the University of Wisconsin, Milwaukee, Libraries, and two extensive photograph collections. Image subjects include residential and industrial facilities, local businesses, historic buildings, churches, and numerous Milwaukee parks.
An essay by professor Judith Kenny entitled Picturing Milwaukee makes use of images from the collection to examine the growth and development of Milwaukee and its 75 neighborhoods in the larger context of economic and social change. Topics addressed include early commercial development, industrialization, suburban development, and the post-World War II city. Additionally, there are 12 maps of Milwaukee that can be browsed separately. Each is accompanied by a descriptive record and a link to a larger image.
The collection can be searched by neighborhood, subject terms, or place/businesses. In addition to those interested in the history of Milwaukee, this site will be of interest to those studying urban development or historical architecture.