At a Glance
Description
Listen to New Orleans jazz while learning about Louis Armstrong and other famed musicians.
Producer
Louisiana State Museum, Louisiana Digital Library
Louisiana State Museum Jazz Collection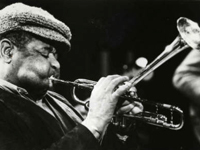 This small site, part a larger collection, offers a music archive dealing primarily with traditional New Orleans jazz. Composed of photographs, audio recordings, and audio interviews of musicians and bands that were primarily active in New Orleans, the collection is currently composed of more than 1,000 total items, including more than 380 audio recordings. Of particular interest are the 160 Louis Armstrong items. The collection can be searched by keyword. The site's authors plan to make additional items available as they are digitized and catalogued. A useful resource for those studying the history of jazz or jazz culture.