At a Glance
Description
Peruse this national source for all things Eisenhower.
Producer
University of Texas
Dwight D. Eisenhower Library and Museum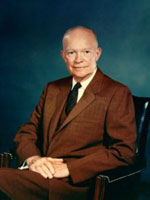 A national repository for the preservation of historical papers, audiovisual materials, and artifacts related to Dwight Eisenhower, this site presents materials relating to his life and accomplishments. This collection indexes more than 675,000 feet of motion picture film, most of which document the years Eisenhower spent as president, but does not present the film. The site indexes more than 100 audio files that cover the years 1953 to 1958. In addition, the site includes full-text transcripts of Eisenhower's presidential speeches (nearly 400 pages of speeches in PDF format), and more than 75 photographs. The site includes six paintings made by Eisenhower. For educators, the site includes three lesson plans, including World War II Spy Kit: The Great Nazi Intelligence Coup, where students analyze primary sources and play a historical "what-if" game about the United States' preparations for the D-Day invasion. The site provides access to a limited number of primary or secondary sources.