At a Glance
Description
Explore the folk lore of Florida—from musical performances and art to occupational lore.
Website
Producer
Florida State Archives
Florida Folklife Collection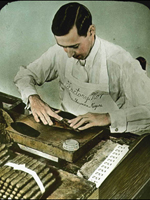 This extensive archive offers more than 10,300 photographs of Florida folklife from the 1930s through 2001. The archive can be browsed or searched by keyword. The site also makes available 17 interviews with folklorists and folk artists and 24 recordings of performances by Florida blues, gospel, shape-note, and folk singers. Additionally there are also 10 "voices of Florida" collections that include recordings of performances by or interviews with folk musicians, crafters, storytellers, and folklife interpreters on subjects such as children's lore, religious traditions, Seminole culture, maritime traditions, ethnic folk culture, material culture, and occupational lore. There are also 29 brief profiles of prominent Florida folklorists.
For teachers, the site offers five educational units that offer a history section with an interview, documents and audio, photographs, and lesson plans. Unit subjects include Zora Neale Hurston's 1939 recording expedition to the turpentine camps in Cross City, the history and practices of the net-making trade, the tradition of white oak basket making, and Seminole doll making. The visitor can also search the full catalog of photos and audio recordings (46,000 photographs and 5,000 audio recordings). Also available are five film clips from early Florida Folk Festivals and the Florida Folk Arts Conference. And the website provides 30 links to related websites on folklife programs and collections.