At a Glance
Description
How does the settling of the Siberian frontier compare to that of the U.S. West?
Producer
Library of Congress
Meeting of Frontiers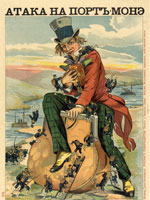 In conjunction with the Russian State Library in Moscow, the National Library of Russia in St. Petersburg, and the Rasmuson Library of the University of Alaska in Fairbanks, the Library of Congress has digitized more than 2,500 items, comprising approximately 70,000 images, and provided transcriptions and commentaries in English and Russian to offer a comparative history of American and Russian expansion through frontier territories in each nation's continent. The site presents an overview of expansion into Siberia and the American West in six sections: Exploration, Colonization, Development, Alaska, Frontiers and National Identity, and Mutual Perceptions. Each section contains from two to 11 modules that call attention to similarities and differences between the two histories with regard to subjects such as migration—forced and otherwise, missionaries, religious flight, mining, railroads, agriculture, cities, popular culture, and tourism, and even compares Cossacks with cowboys.
The site offers more than 40 complete books, including manuals, handbooks, fiction, and travelers accounts; 77 maps and one atlas; 438 items from the Russian-Ukrainian Pamphlet and Brochure Collection; materials from six complete manuscript collections, regarding exploration, trade, and commercial activities; four tour-of-the-century films; 125 newspaper articles; 11 dime novel covers; five photographic collections; and one sound recording of a Russian folk song. Provides a 500-title bibliography and links to 30 related sites. Valuable for those studying the American West and Russian history and investigating ways to explore frontiers of comparative histories in order to expand beyond limits of national history narratives. Listen to the audio review: .