At a Glance
Description
Explore the largest collection of freedom suits available to U.S. researchers.
Producer
Missouri State Archives and Washington University
St. Louis Circuit Court Historical Records Project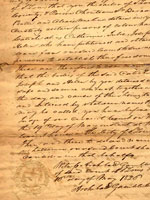 Part of a larger project involving 4 million pages of St. Louis court records dating between 1804 and 1875, this website was designed to preserve and make accessible the freedom lawsuits filed in the St. Louis Circuit Court. In January 2001, the freedom suits brought by Dred Scott and his wife Harriet in 1846 became the first cases to go online. There are now more than 280 freedom suits are available. These case files consist of legal petitions for freedom by people of color originally filed in St. Louis courts between 1814 and 1860. They make up the largest corpus of freedom suits currently available to researchers in the United States. The images of original handwritten documents in which black men, women, and children petitioned the courts for freedom offers a glimpse at what some argue was the beginning of America's civil rights movement.
The short Macromedia Flash film "Freedom Suits" offers a glimpse into the pursuit of freedom by African Americans in St. Louis during the 19th century. This online archive will help researchers understand the length of enslaved African American's struggles and the historical significance of the lawsuits.