Central Question: Did Northerners all respond the same way to Brown's infamous raid? Southerners?
What Textbooks Say
Textbooks present the response to John Brown's 1859 raid on Harpers Ferry as polarized according to geographic sections, with Southerners condemning Brown as a dangerous fanatic and many Northerners supporting his bold and violent strike against slavery. That portrayal reaffirms the deep and growing sectional divide and depicts a nation barreling towards secession and war.
[...] »
What Historians Say
Historians detect more variation in the responses to Brown's raid, and more nuance even among Northerners and Southerners. In particular, the raid provoked deep and complicated reactions in the North, ranging from celebration to political censure. Those responses reveal a country deeply divided over the institution of slavery, but far from uniform in thought.
[...] »
What Sources Say
As one of the most riveting events of the antebellum era, Brown's raid precipitated passionate responses in newspapers, sermons, and political speeches. Those sources provide a compelling glimpse into a vast nation's complicated responses to the captivating moment in time.
[...] »
Abstract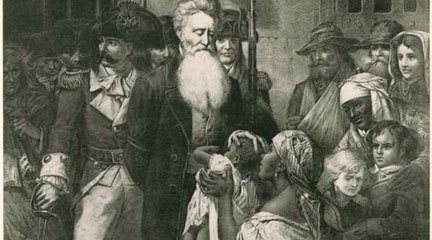 Textbooks present John Brown's abortive raid on Harpers Ferry in 1859 as a polarizing event in the growing sectional rift between North and South, unifying opinion in both regions. In fact, the initial response to the raid was more nuanced than it is often portrayed—particularly in the North, where different reactions revealed a complex and multifaceted society struggling with the implications of Brown's actions.
Read the full essay and explore the sources. »