At a Glance
Description
Learn about southern culture through the images on Confederate currency.
Producer
Leah Wood Jewett, Project Director, U.S. Civil War Center
Beyond Face Value: Depictions of Slavery in Confederate Currency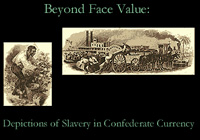 Funded by the Louisiana Endowment for the Humanities as a project of the U.S. Civil War Center at Louisiana State University, this exhibit focuses on depictions of slaves on Confederate currency. The project treats currency as a way to interpret the culture and identity of the southern people during the Civil War. The site offers over 70 images of Confederate Currency printed by individual southern states and provides roughly 500-word narratives of the general history and economic environment of the Confederate states as background to the interpretation of the images. The images are grouped both by state of origin and thematically, in seven categories that describe the kinds of activities that slaves are depicted performing on the money: Individuals with Cotton; Individuals with Assorted Tasks; Field Scenes; Stylistic Scenes; Post-Civil War Scenes; Sugar Plantations; and Transportation. There are 15-20 word captions with each image describing the currency on which the image appeared. There is a list of ten Web links and a bibliography of over 50 scholarly books and articles on the Confederate economy and currency. This site is useful for researching the economic history of the southern states as well as for learning about southern identity during the Civil War.