At a Glance
Description
Learn more about military, diplomatic, and political resources by browsing this archive of World War I documents and images.
Website
Producer
Jane Plotke, Richard Hacken, Alan Albright, and Michael Shackelford
World War I Document Archive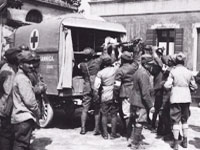 Hundreds of documents and thousands of images relating to World War I, with particular emphasis on military, diplomatic, and political resources, are available on this website. Documents are arranged chronologically and by type, including more than 100 official documents from 16 countries, 100 personal reminiscences, and 24 treaties from 1856 to 1928. A photo archive provides 1,844 images in 15 categories, including individuals, locations, heads of state, commanders, refugees, and war albums. The website also offers substantial sections on the maritime war and the medical front, an alphabetical bibliographical dictionary with over 200 names, and approximately 125 links to related sites. The authors—volunteers from a World War I electronic discussion network—encourage user participation in expanding the site.