At a Glance
Description
Learn about the women's rights movement through the secondary sources offered by this website.
Producer
National Women's History Project
Living the Legacy: The Women's Rights Movement, 1848-1998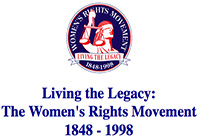 Furnishes secondary materials concerning women's rights efforts in the U.S. from 1848 to the present. Includes a 5,000-word history of the movement; a 7,000-word chronology of political activism; six curriculum ideas; a detailed list of activities for high school students, librarians, and teachers to celebrate the 150th anniversary of the movement; listings for 54 prominent women's history organizations, arranged alphabetically by state; basic information and/or links for 60 groups that treat contemporary women's issues; and descriptive listings for 18 "costumed history performers" who portray public figures in women's history. The site is sponsored by the National Women's History Project, "a nonprofit organization, founded in 1980, that is committed to providing education, promotional materials, and informational services to recognize and celebrate women's diverse lives and historic contributions to society."