At a Glance
Description
Analyze data to understand the impact of slavery on the colonies and nation.
Producer
Data and Program Library Service, University of Wisconsin Madison
Slave Movement During the 18th and 19th Centuries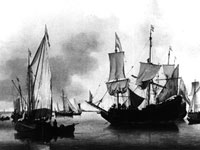 This site offers downloadable raw data and documentation on 11 topics related to the 18th- and 19th-century slave trade, including records of slave ship movement between Africa and the Americas 1817-1843, the 18th-century Virginia slave trade, and slave trade to Jamaica 1782-1788 and 1805-1808. Data sets contain information such as port of departure, vessel and owner information, number of slaves carried, origins of slaves, and ports of arrival.
Each data set includes a 250-word description explaining bibliographic information, file inventory, and methodology, as well as a codebook that guides users in reading the data. The data is provided without analysis, and the site carries a warning that data analysis is tedious, time-consuming work that requires specialized data sorting software. The site would be particularly useful in controlled assignments for college-level survey or advanced high school students' research into slavery and the slave trade.