At a Glance
Description
Enter the world of automotive history through oral histories and scholarly essays.
Producer
University of Michigan, Dearborn, and The Henry Ford
Automobile in American Life and Society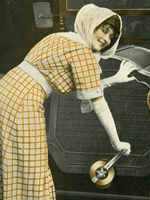 This website was designed as an academic resource for courses focused on the automobile and the automobile industry. Each section—design, environment, gender, labor, and race—has a short introduction and two illustrated scholarly essays (often including annotated bibliographies). The complete text of each essay can be viewed in a separate window and each essay is accompanied by a student and teacher resources section with one or more questions for reading, discussion, writing, and research, as well as questions making connections between the essays. "Design" also offers a list of 110 "automotive oral histories" available in the Benson Ford research center, but only 17 are available on the site. Visitors can search the site by keyword but no advanced search is available. This site is a useful resource for students and educators studying the role of the automobile in American culture and society.