At a Glance
Description
What would your life be like as a Union soldier? What did it say about your personal values?
Producer
Minnesota Historical Society
Civil War Letters of the Christie Family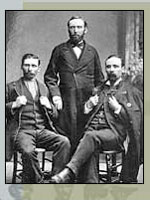 This site offers a remarkable collection of letters written by Minnesotans William, Thomas, and Alexander Christie during their tours of service in the Union Army from 1861 to 1865. These letters, selected from the Minnesota Historical Society's James C. Christie and Family Papers, contain observations on life in army camps, the war, society, and contemporary politics. The letters are arranged for browsing by author, location, and month (from July 1861 to June 1865.) Each letter is accompanied by notes on the date, location, addressee, and a brief (15-20 word) description of the contents.
Though the site authors promise typed transcriptions at an undesignated future time, the Christie brothers' handwriting is very readable and the letters provide an excellent introduction to examining handwritten documents. The site is a must for students interested in army life among the Union troops in the Civil War.