At a Glance
Description
Presents detailed information on all 43 of the nation's presidents.
Producer
Miller Center of Public Affairs, University of Virginia
American President: An Online Reference Resource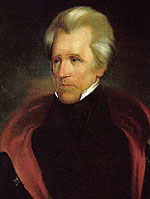 Information on all 43 of the nation's presidents is presented on this website. Each president is featured individually with an in-depth biographical essay, details about the first lady and members of the Cabinet, links to the President's speeches, and discussions with current scholars. The Presidency as an institution is treated thoroughly in the "President at Work" section with essays on general areas of presidential duty: domestic and economic policy; national security; legislative affairs; administration of the government and White House; and presidential politics.
Clicking on "Presidential Oral Histories" or "Presidential Recordings" under the "Academic Programs" tab reveals an additional wealth of information. Recordings are available for Presidents Roosevelt, Truman, Eisenhower, Kennedy, Johnson, and Nixon. After tapes were prohibited from the Oval Office following the Watergate scandal, the Miller Center began to conduct oral history projects, producing hours of interviews with Presidents Carter, Reagan, Bush, and Clinton and their staff.