At a Glance
Description
A diverse array of Antebellum, Civil War, and Gilded Age lesson plans for your convenience.
Producer
Digital Projects at Northern Illinois University Libraries
Teaching Future Historians: U.S. History Lesson Plans Using Primary Documents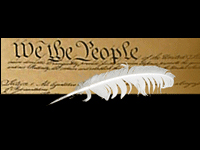 This website offers links to lesson plans, audio recordings, and video lectures related to the Antebellum, Civil War, and Gilded Age eras. There are 15 lesson plans on the Antebellum era focused on the Lincoln-Douglas debates, antislavery, Cherokee removal, slavery and the legal status of free blacks, gender roles, religion in political life, and the free-market labor vs. slave labor, "mudsill" theory debate. The nine lesson plans on the Gilded Age include such diverse topics as the WCTU and the lynching controversy, civil service reform, bimetallism, free trade, and political campaign songs. There are 145 downloadable songs organized by topic.
The site also offers access to downloadable video lectures on 12 different topics that include African Americans and race, economic development and labor, frontier settlement, law and society, religion and culture, women and gender, and political development. Most topics have 10 or more lectures available. A small site, but very useful for teaching the history of these three eras.