At a Glance
Description
Bring yourself up to speed on the Gold Rush, including the minorities involved.
Website
Producer
Oakland Museum of California
Gold Rush!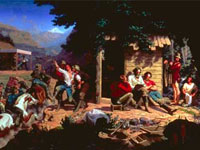 In commemoration of the 1848 California Gold Rush, the Oakland Museum opened a series of exhibitions and created this online companion site. Sponsored by Kaiser Permanente, this virtual tour of the museum's exhibition offers an extensive (roughly 5,000-word) narrative of the Gold Rush and its history, illustrated with over 50 images of posters, photographs, artifacts, and art related to the Gold Rush. Three audio narratives discuss details of the discovery of gold and the resulting massive westward migration. Also included on the site are 28 images of artwork and 22 photographs of related subjects.
Site visitors can explore the experiences of Chinese, Latino/Californio, Native American, and African American peoples who participated in the Rush. Links to three curriculum sites and sample curriculum materials are available for grades 4, 5, 8, and 11; five curriculum units and 18 lesson plans can be purchased from the museum. The site is ideal for researching California history and westward expansion.