At a Glance
Description
Presents the complete text of the Nebraska edition of the Lewis and Clark journals, along with supplementary secondary sources.
Producer
University of Nebraska Press; Center for Great Plains Studies; UNL Libraries
Journals of the Lewis and Clark Expedition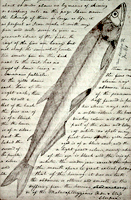 This well-designed site presents the Nebraska edition of the Lewis and Clark journals, edited by Gary E. Moulton. The site provides the complete text of all the journals from the 1803–1806 expedition, as well as introductions, prefaces, and sources. The material is searchable by keyword and phrase.
There are 29 scholarly essays about the expedition. An image gallery offers 124 images of pages from the journals, 95 images of people and places, and 50 images of plants and animals encountered on the expedition. The maps section includes 12 explanatory maps and nine images of maps from the journals. Additionally, there are 27 audio excerpts of journal readings and eight video interviews with the editor of the project. The website stands as an outstanding resource for researching the history of the Lewis and Clark expedition.