At a Glance
Description
What might your life have been like as an African American in Virginia c. 1900?
Producer
Virginia Commonwealth University Libraries and Valentine Richmond History Center
Images of African Americans from the Cook Collection of Photographs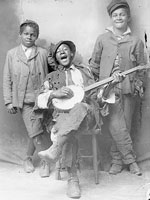 This site consists of nearly 300 images of Afro-Virginians dating from the 1880s to the early 20th century. Images are scanned from prints taken by father and son, George S. Cook and Huestes P. Cook, principally in the Richmond and Central Virginia area. Users can search the digital collection by keyword or browse images, including agriculture, education, recreation, religion, tobacco, and urban life. Documentation of labor is the most extensive, while the images of children ad education are fascinating. This site is valuable to those studying African-American life at the turn of the century or Virginia history.