At a Glance
Description
If you need a succinct copyright overview for your students, this is a place to start.
Producer
Library of Congress
Taking the Mystery out of Copyright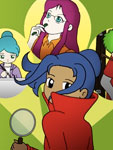 Taking the Mystery out of Copyright provides a very brief introduction to copyright and the history of intellectual property. If you need anything beyond the very basics, unless you are interested in the major historical milestones leading to current copyright protection, this site probably will not meet your needs. However, if all you want to do is introduce the idea of copyright to very young students, you may find the site useful.
Visitors can select one of four sections. Copyright Exposed is a short animated video set to funk music which provides the basic idea that copyright "has got your back" when you produce a creative work. Files on Record provides a timeline of intellectual property history. Each milestone is accompanied by a primary source from the Library of Congress's collections. Here, you can read a few sentences on the Licensing Act of 1662 or the 1990 Architectural Works Copyright Protection Act. Reading the Fine Print offers two- to five-sentence answers on applications of copyright—protection of ideas, copyright on items you find, copyright on the Internet, when people can use your work without asking, the right to use a small sample of another work, and the reasons for registration. Steps to Copyright informs readers on how to register copyright (make something, fill out the form, pay the appropriate fee, and send nonreturnable copies).