At a Glance
Description
Hear 12 renowned speeches by African Americans, including Marcus Garvey's only known recording.
Producer
American Radio Works
Say it Plain: A Century of Great African American Speeches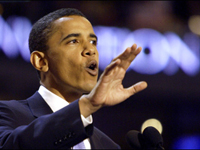 This small website assembles transcripts and audio recordings of 12 important speeches by prominent African Americans of the late 19th, 20th, and 21st centuries. These include: Booker T. Washington, Marcus Garvey, Mary McLeod Bethune, Dick Gregory, Fannie Lou Hamer, Stokely Carmichael, Martin Luther King, Jr., Shirley Chisholm, Barbara Jordan, Jesse Jackson, Clarence Thomas, and Barack Obama.
Topics include Washington's speech to the 1895 Atlanta Cotton States and International Exposition, Bethune's 1939 speech "What Does Democracy Mean to Me?," a 1966 speech by Carmichael at U.C. Berkeley, and King's 1968 "I've Been to the Mountaintop" sermon delivered in Memphis just before his assassination. The speech by Marcus Garvey is his only known recording. Each speech is accompanied by a brief introduction. The site provides 40 links to related websites.