At a Glance
Description
Through oral history interviews, audio files, texts, and other primary sources, learn about life and presidency of Lyndon B. Johnson.
Producer
Lyndon Baines Johnson Library and Museum
Lyndon Baines Johnson Library and Museum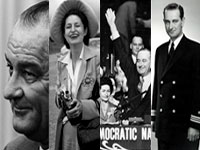 The heart of this collection about President Lyndon Baines Johnson is a group of 77 oral history interviews (up to 200 pages each) with members of Johnson's administration, Congressional colleagues, journalists, civil rights leaders, and a historian. The website provides 14 audio files, including telephone conversations, State of the Union addresses, Johnson's speech to Congress following the Kennedy assassination, and an excerpt of his television address announcing his decision not to run for a second term.
Also available are transcripts of 25 speeches; 50 "days of" diary entries; and the 99 National Security Action memoranda issued during Johnson's presidency relaying foreign policy directives and initiating actions. There are 150 photographs and one campaign advertisement. Biographical information is furnished in two chronologies. An exhibit from the Johnson museum provides an essay about events in Johnson's lifetime.