At a Glance
Description
Focused on business history, this gateway site connects businesses to greater cultural and social trends.
Website
Producer
Hagley Museum and Library
Hagley Digital Archives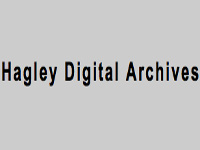 With a focus on business history and its connections to larger cultural, social, and political trends, the Hagley archive presents digital images on a range of topics, including "industrial processes; commercial landscapes; marketing and advertising; transportation facilities and methods; development of information technology; and, the social and cultural aspects of work and leisure." Pictured are bridges, dams, coalmines, and the testing and manufacturing of gunpowder and explosives, nylon, steel, railroads, automobiles, and airplanes. Also included are images of historic buildings, homes, and gardens in Delaware and Pennsylvania.
There are some images of advertisements, packaging, company brochures, trade catalogs, pamphlets, internal documents, letters, and other ephemera from various industrial enterprises. It includes, for example—under "nylon"—not only shots of machinery, product samples and images of the stages of melting and forming polymers, but also such treasures as ads and publicity shots of women modeling nylon stockings and swimsuits (including "Miss Chemistry" at the 1939 New York World's Fair), and news photos of the riotous early sales of nylon stockings.
Other topics include the early development and use of computers by Univac, IBM, and Remington Rand, aerial photos of the Mid-Atlantic seaboard; automobiles; Lukens Steel Company; ship building; and coal mining.