At a Glance
Description
Teaching 20th century presidential history or political events? Explore this site for interactive timelines, exhibits, and over 1,500 primary sources.
Producer
National Archives and Records Administration, University of Texas at Austin
Presidential Timeline of the Twentieth Century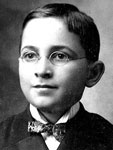 The Presidential Timeline curates and presents primary sources drawn from twelve Presidential Libraries and Museums, institutions housing and presenting archival materials for the presidents from Herbert Hoover to Bill Clinton. Under "Interactive Timeline," you can choose any of the 12 presidents—Herbert Hoover, Franklin D. Roosevelt, Harry S. Truman, Dwight D. Eisenhower, John F. Kennedy, Lyndon B. Johnson, Richard Nixon, Gerald Ford, Jimmy Carter, Ronald Reagan, George Bush, or William Jefferson Clinton—and explore his life.
Timelines consist of at least two sections: "Early Life and Career" and "Presidency." All timelines except Roosevelt's, Kennedy's, and Clinton's also include a "Post-Presidency" section. Marks on the timeline indicate events of interest in the president's life and career; click on a mark to read a brief summary of the event, and to view primary sources (a + sign in the mark indicates primary sources are available).
Browse "Exhibits," also under "Interactive Timeline," for more than 30 collections of short essays, accompanied by 2–6 primary sources per essay, covering major events and topics related to the presidents' lives and careers. Topics covered stretch from "The Stock Market Crash, October 1929" to "William J. Clinton and the Supreme Court, 1993-2001."
Try the "Gallery" to search more than 1,500 primary sources (including artifacts, maps and charts, video, photographs, sounds recordings, and documents) by keyword, library of origin, date, or source type.
The "Educators" section includes 14 ready-to-go activities, on topics ranging from Pearl Harbor to the Iran Hostage Crisis to Bill Clinton's visit to Little Rock Central High School. Students and teachers can view pre-selected primary sources online in each activity, with suggested rubrics, applicable standards, and links to related sources also included. "Resources" links out to 16 websites recommended for history and primary sources, education, and technology, while "Multimedia" rounds up more than 50 audio and video primary source clips for download.
If you can't access the interactive Flash version of the timeline, try the HTML "Text Version" that includes the same primary sources.