At a Glance
Description
Read the personal correspondence and diaries of women such as Phyllis Wheatley and Margaret Fuller.
Producer
Stephen Rhind-Tutt
North American Women's Letters and Diaries: Colonial Times to 1950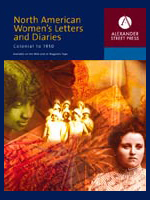 This extensive archive offers approximately 150,000 pages of letters and diaries from colonial times to 1950, including 7,000 pages of previously unpublished manuscripts. Highlighted material includes extracts from the Journal of Mrs. Ann Manigault (1754-1781), the Life of Harriet Beecher Stowe, letters of Phyllis Wheatley, letters of Ellen Louisa Tucker to Ralph Waldo Emerson, letters of Margaret Fuller, and the memoirs and letters of Dolley Madison, wife of James Madison.
Search the database by keyword or use the advanced search to find material by such fields as author, race, religion, age, occupation, date of writing, document type, historical event, or subject. More than 80 fields have been indexed. This website is available either through one-time purchase of perpetual rights or through annual subscription (your library or institution may have a subscription). This collection is a useful archive of material for teaching about the history of women as well as for research in women's studies, social history, and cultural history.