At a Glance
Description
View testimonies on the Holocaust, create videos, and learn the importance of ethical editing.
Website
Producer
University of Southern California's Shoah Foundation Institute
IWitness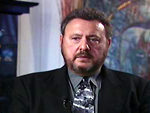 IWitness is an incredible resource for educators intent on bringing awareness and analysis of the Holocaust to their classroom. The site offers more than 1,000 video testimony clips from Holocaust survivors, liberators, and others. These videos can be browsed by topic (from "Anti-Jewish Laws" to "Warsaw Ghetto Uprising") or searched by name or topic. Searching provides a few benefits for lesson planning. For one, video search results will play the portion of a clip containing information related to your search, making it easy to decide if the result is actually relevant to your classroom plans. In addition, searches may reveal related materials such as photographs of artifacts in the U.S. Holocaust Memorial Museum collection or encyclopedia articles providing additional information and context.
You can also register as an educator or a student. Educators can assign activities and view student work (only viewable by the specific student and the teacher). Students can watch videos on items such as understanding testimony and archives or editing video interviews in an ethical manner. Activities that call for video editing allow students to save clips into a library for future use in their projects and prepare their own videos using video-editing tools which are part of the website—no download needed.
For a quick introduction to the site, consider watching the six-minute demonstration video linked at the top of the About Us page.
Interested in learning more about IWitness? Read teacher Brandon Haas's Tech for Teachers article.