At a Glance
Description
Did you know that the gear a paratrooper had to carry could weigh as much as 120 pounds?
Website
Producer
American Experience, PBS
D-Day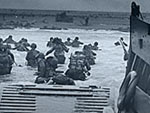 D-Day is a companion website to the PBS American Experience documentary of the same name. On Tuesday June 6, 1944, the Allies landed in France in an attempt to end World War II. The PBS documentary consists of archival footage and the commentary of 43 eyewitnesses.
While the film itself is not streaming online, you can read the full transcript, which alternates between narration and oral history.
Special Features includes some trivia points, accounts of D-Day by both U.S. and German soldiers, two breaking news articles of the invasion, statistics on paratroopers, and six letters home written by U.S. soldiers following D-Day.
Other site features include a timeline, short biographies of key figures, a map, and a teacher's guide. The teacher's guide offers four activity suggestions—one each for history, economics, geography, and civics. The history suggestion includes writing alternate histories and preparing oral reports on decisive battles in U.S. history.
All in all, the site provides a decent amount of historical trivia and personal accounts, which could be used to enliven a unit on World War II.