At a Glance
Description
Experience the life and works of lesser known American classical composer Irving Fine.
Producer
American Memory, Library of Congress
The Irving Fine Collection, Ca. 1914-1962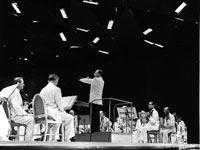 This is a selection of some of the more than 4,300 items in the papers of conductor and composer Irving Fine (1900-1962). Material includes a 700-word biographical sketch and illustrated timeline of Fine's life. There are 57 photographs of Fine, including six with Aaron Copland, and six of Fine conducting at Tanglewood. Visitors may listen to the first and second movements of Fine's 1952 String Quartet, about eight minutes each, and may observe the composer at work by looking at five facsimiles of sketches for the score. These include a full 53-page score, a 43-page sketchbook, a 41-page pencil sketch, a 3-page draft of an incomplete and abandoned third movement, and a one-page row chart. A finding aid describes the rest of the collection, which includes personal and business correspondence, additional sketchbooks, press clippings, programs, and recordings. Visitors may search by keyword, browse photographs, or browse the five musical sketches. A bibliography lists seven articles by Fine, as well as two books, six articles, and seven dissertations about him. Useful for researchers interested in American classical music and cultural history.