At a Glance
Description
Photographs, audio clips, documents, and more preserve the presidency of Franklin D. Roosevelt.
Producer
Franklin D. Roosevelt Library and Museum, Marist College
Franklin D. Roosevelt Presidential Library and Digital Archives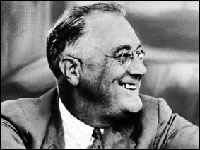 Offering more than 10,000 documents pertaining to Franklin D. Roosevelt's presidency, this website presents documents that include approximately 6,000 pieces of formerly-classified correspondence, reports, and memoranda. Topics include the Atlantic Charter; the United Nations; the Departments of War, Treasury, and State; and the Manhattan Project to develop the atom bomb.
The site also offers 1,000 documents pertaining to U.S.-Vatican relations during World War II, 2,000 documents concerning U.S.-German relations, and full texts of 30 "fireside chats." An exhibit examines "The Special Relationship" between Winston Churchill and Roosevelt and the emergence of an Anglo-American alliance. A mini-multimedia showcase contains one video clip of Roosevelt walking and 11 audio clips of speeches. The site also provides information on Eleanor Roosevelt and the Depression, and includes more than 2,000 photographs.