Families on the Farm
Question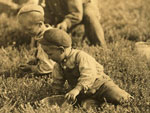 What was farm life like for a girl in the late 19th and early 20th century? What was life like for the children of Ulysses Grant at Hardscrabble Farm? Where can I find historical information about women and their roles within the community—maintaining communication, family safety, and home and farm while husbands were gone?
Answer
Children today may be struck by ways in which their own lives contrast with those of farm children's in earlier times. One difference is the extent to which girls and boys, from a very early age, were given hard work that was essential to the running of the farm and to the economic success of the entire family. On the other hand, children today might be surprised by how independently children in times past ranged in work and play, far from immediate adult supervision, protection, and surveillance. This was true, not just on the farm, but in towns and cities as well.
Children's Lives on the Farm
Farms were—and are—vastly different from one another in very many ways, depending on their size, location, the financial resources of the owners, the ethnic background and education of the families who worked the land, and other factors. So I can only offer a few very tentative places where you might begin your reading.
Farms were—and are—vastly different from one another in very many ways.
Laura Ingalls Wilder's Little House on the Prairie series, although fictionalized, provides a good idea of her life growing up on a farm in the Midwest in the second half of the 19th century. An interview that a Works Progress Administration writer did in 1938 with Nettie Spencer colorfully describes her pioneer rural childhood in the 1870s in Oregon. The website of Old Sturbridge Village provides a short essay that includes a useful description of how girls' and boys' lives were integrated into the work of their families' farms, including which jobs on the farm girls and boys were typically expected to do. On children's education in the 19th century, Pat Pflieger's website on 19th-century American children and what they read offers plenty of primary sources—articles, book selections, children's scrapbooks, and photos—from the time.
Hardscrabble Farm
Ulysses and Julia Grant received from Julia's family as a wedding gift an 80-acre plot of land not far from St. Louis. Grant and some of his friends erected a two-story rustic cabin on the land in 1856. When it was finished, he ruefully named it "Hardscrabble," and the Grants moved in with their children—Fred, who was six years old; Buck, who was four; and Nellie, who was one year old. Grant, along with slaves whom he and Julia owned, attempted to develop the land and also helped manage and work his in-laws' farm, White Haven, nearby by growing potatoes, wheat, and other vegetables, tending a fruit orchard, and cutting and cording wood.
Grant ruefully named it "Hardscrabble."
The Grants only lived in the Hardscrabble cabin for a short while. When Julia's mother died and their fourth child, Jesse, was born in 1858, the Grants moved out and took a small house in St. Louis, where Ulysses worked at various jobs. Consequently, the Grants' children were all really too young during the family's stay at Hardscrabble to have done many chores.
Farm Women
In 1982, two books were published almost simultaneously that shaped many people's ideas about 19th-century women on the farm. They were Lillian Schlissel's Women's Diaries of the Westward Journey and Joanna Stratton's Pioneer Women: Voices from the Kansas Frontier. Together, they give the impression that the lives of farm women were ones of extreme hardship, isolation, and degradation. However, Amy Mattson Lauters' 2009 book, More Than a Farmer's Wife: Voices of American Farm Women, 1910-1960, tells a different story in which farm women thrived, happily independent of the city, and "saw farming as an opportunity to be full partners with their husbands and considered themselves businesswomen central to the success of their farms." Lauter considers evidence from interviews, but also from the many journals and magazines that farmers and their wives subscribed to, such as American Agriculturalist, New England Farmer, Southern Cultivator, and The Farmer's Wife (many issues of these magazines, back into the 19th century, are available online at Google Books). An interesting letter from "A Lady"—clearly a farmer's wife—was published in The New England Farmer in 1852. She wrote:
But there are those who sincerely believe, that no class of women in this country, do work so hard as the farmer's wives. That circumstances often require this, it is useless to deny. But that a woman is constantly to work, and have no leisure, because she is a farmer's wife, I do deny. A man who owns a small farm, is not required to hire much help, so that the labor of his wife is not very great. One who owns a larger one, and is required to hire help "out of doors," if he manages as he ought, with economy and skill, will also be able to hire all needful assistance "in doors." Where a man owns a large farm and is still unable to hire all needful help for his wife, we infer that there is an exception, and is not the general rule. Bad management, an avaricious disposition, or anything which tends to increase the burden of the wife, are wrong management somewhere, and this makes not necessarily the result of tilling the soil, but these same habits and traits of character would exhibit themselves in any other situation in life, and of course the result would be the same.
The correspondent had been moved to write her letter after she overheard two women from the city disparage one of their friends for having married a farmer.