At a Glance
Description
Search news articles, court cases, journals, broadcast transmissions, polls, data compilations, magazine articles, and more.
Website
Producer
Reed Elsevier, Inc.
LexisNexis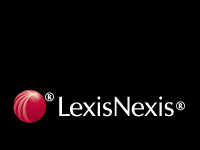 This service provides full-text and keyword searching to more than 5,900 news, business, legal, medical, and reference publications. The database accesses current and recent issues of more than 50 major English-language newspapers, including the New York Times and The Washington Post back to 1980 or earlier. The database also offers more than 400 magazines and journals, 600 newsletters, and transcripts of radio and television broadcasts from major networks.
Legal materials include Federal and state cases, laws, codes, and regulations and law review articles. Business resources include SEC filings and reports and corporate financial information and profiles. The site also provides statistical tables of data pertaining to industries, biographical information, country and state profiles, polls and surveys, and the World Almanac and Book of Facts. Access to various parts of this enormous resource varies by subscription agreement.