At a Glance
Description
Pennsylvania educators, or teaching urban history? Explore two neighborhoods in Philadelphia using an interactive map and more than 1,240 primary sources.
Website
Producer
Historical Society of Pennsylvania
PhilaPlace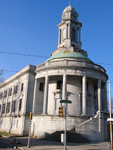 A project of the Historical Society of Pennsylvania, PhilaPlace explores the history of two neighborhoods in Philadelphia—Old Southwark and the Greater Northern Liberties—historically home to immigrants and the working class. Using an interactive map and more than 1,240 primary sources and audio and video clips, visitors to the site may navigate the neighborhoods and learn more about their development from 1875 to the present day.
Visitors may navigate the interactive map using filters found under two tabs to the left of the map: "Places" and "Streets."
Under "Places," click on marked points of interest to bring up photographs or audio or video clips describing the history of the location. These points of interest may be filtered by 14 topics (such as "Food & Foodways," "Education & Schools," and "Health") or by contributor (the Historical Society of Pennsylvania, its partners, or visitors to the site). The map may be set to show the city's streets in 1875, 1895, 1934, 1962, or the present day—note that points of interests from all time periods appear on all maps. Two virtual tours through the points of interest are available, one for Greater Northern Liberties/Lower North and South Philadelphia.
Under "Streets," visitors can view demographics for four streets—S. 4th St., S. 9th St., I-95, and Wallace Street—from 1880-1930. Buildings on each street are color-coded to show land use, the number of residents per building, and the ethnicity and occupation of each building's residents.
Collections allows visitors to search the more than 1,240 primary sources and audio and video clips available on the site. Filter them by topic, neighborhood, type, or contributor.
The site's blog presents mini-features on certain locations, notifications of updates, and information on professional development and other PhilaPlace-related events. Educators provides a timeline for each of the neighborhoods and four suggested lesson plan/activities, while My PhilaPlace lets visitors create free accounts and save favorite materials to them—or create their own up-to-25-stop city tour. The Add a Story feature allows visitors to tag locations on the maps with their own short descriptions or memories (up to 600 words long), and accompany them with an image or audio or video clip.
Attractive, interactive, and accessible, PhilaPlace may appeal to Pennsylvania educators looking for a tool to help students explore urban history.