At a Glance
Description
Explore 200 years of postcards which document the Vincentian religious order of educators and nurses.
Website
Producer
DePaul University
Vincentian Postcards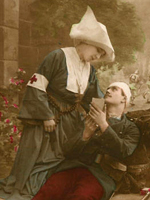 The Community of the Sisters of Charity, an order of the Congregation of the Mission founded by St. Vincent De Paul and dedicated to teaching and nursing, was founded in the U.S. in 1809 by St. Elizabeth Seton (1774-1821). This collection of 580 postcards "documents the spirituality and mission of the Vincentians" and includes images of institutions such as hospitals, churches, and seminaries in many U.S. states including California, Illinois, Indiana, Kansas, Kentucky, Louisiana, Missouri, Maryland, and Massachusetts. "Spanning 200 years, these postcards reflect the heritage of the religious orders, the growth of social institutions, advancements in technology, and changes in urban environments." Visitors can browse the full collection or use advanced and simple searches to locate images of particular interest. Full bibliographic information accompanies each image. This archive is of interest to anyone researching the history of religious institutions in 19th- and 20th-century America.