At a Glance
Description
Peruse lesson plans about the West on this companion site to a Ken Burns documentary.
Website
New Perspectives on the West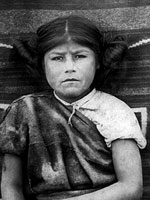 This educational resource complements an eight-part PBS documentary series by Ken Burns and Stephen Ives, The West. The site is organized into several sections: a guided tour of the West, an interactive timeline to 1917, a hypertext map which includes migration and commerce routes, games and puzzles, and, most importantly, archival materials collected during the making of the series.
Primary sources, organized in chronological order, include memoirs, letters, government reports, and photographs. Visitors should not expect to encounter new perspectives on the American West offered by such historians as Patricia Limerick or William Cronon, or in-depth discussion of such important historiographical issues as gender or the environment. Political and military history, and to a lesser extent social and ethnic history of the West, however, are well represented in this account.