At a Glance
Description
Trace the history of Africans in America through Reconstruction, with 245 images, maps, and documents.
Website
Africans in America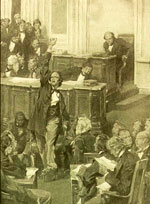 Created as a companion to the PBS series of the same name, this well-produced site traces the history of Africans in America through Reconstruction in four chronological parts. The site provides 245 documents, images, and maps linked to a narrative essay.
"The Terrible Transformation" (1450–1750) deals with the beginning of the slave trade and slavery's growth. "Revolution" (1750–1805) discusses the justifications for slavery in the new nation. "Brotherly Love" (1791–1831) traces the development of the abolition movement. "Judgment Day" (1831–1865) describes debates over slavery, strengthening of sectionalism, and the Civil War. In addition to the documents, images, maps, and essay (approximately 1,500 words per section), the site presents 153 brief (150-word) descriptions by historians of specific aspects on the history of slavery, abolition, and war in America. The site provides a valuable introduction to the study of African-American history through the Civil War.