At a Glance
Description
Learn about Dickinson's family through their own writings and wider critical response to her poetry.
Website
Producer
Dickinson Editing Collective
Dickinson Electronic Archives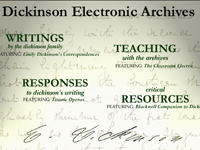 This website on Emily Dickinson's work assembles a diverse array of material on Dickinson and her relatives. Access to the archive of correspondence is restricted, but more than 50 items from the writings of Susan Dickinson are available, as well as a notebook written by Edward Dickinson. Also included is a biography of Susan Dickinson. Responses to Dickson's poetry includes "A Poets' Corner of Responses to Dickinson's Legacy" which offers more than 30 short essays by poets discussing Emily Dickinson's poetry, some with audio. Additionally, there are five articles on various aspects of Dickinson's poetry and links to five other articles. Teaching Resources includes links to more than 30 websites on Emily Dickinson, Walt Whitman, and 19th-century American culture, as well as links to websites of seven courses that utilized the Dickinson archives.
The site is searchable by keyword, but there is no advanced search feature. Links to 12 related sites are provided, as well as brief descriptions and links to four other related sites with biographical and critical materials. Despite the restriction on Dickinson's correspondence, this site is a good starting point for research on Emily Dickinson and her poetry.