At a Glance
Description
Learn about Elvis' bizarre visit with Richard Nixon through this collection of primary sources.
Website
Producer
National Archives and Records Administration
When Nixon Met Elvis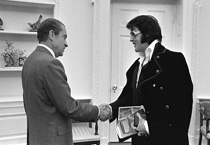 Presents 29 photographs and five documents relating to Elvis Presley's bizarre December 1970 visit with Richard Nixon in the White House. Features a well-known photograph of the meeting and a five-page letter written from Presley to Nixon requesting an appointment as a federal agent "to be of any service that I can to help The Country out." "I will be here for as long as it takes to get the credentials of a Federal Agent," wrote Presley. "I have done an in-depth study of drug abuse and Communist brainwashing techniques and I am right in the middle of the whole thing where I can and will do the most good." Also includes background information about Presley's visit and official White House notes of the encounter. A revealing snapshot into the perceptions of these two public figures concerning the youth culture of their day.